Hello everyone! I have so much to share today. I hope you stay to read it all the way through...
There is so much going on and this week has just been flying by! I wish time would stand still for a bit to allow me to catch up and enjoy these beautiful summer months. But I know better than to ask for such a thing, so I am trying my best to enjoy every minute of what summer brings.
So that brings me to my next card that I created for the latest challenge at
Papercraft Star
. I wanted to create a card that reminded me of the flowers in full bloom all around me during these summer months.
And since I am trying to not let summer pass me by, I am keeping my focus on being "in the moment" - or to "bloom where you're planted" as the saying goes.
The flourish of my card reminded me of the summer breeze, so for my sentiment, I curled up the edges of the banner and adhered with foam tape to give it that breezy kind of feel.
I love the soft pink flowers and the hints of lace peeking through, which explains how I was inspired by this photo to create my card...I just love the dreamy colors. Sigh!
I hope you have a chance to join us this week for the
Papercraft Star
challenge. We have an amazing sketch this week and so many fun new things happening at PCS!
If you've been following the PCS blog, you may have seen that we now have a permanent sponsor featuring fun digital collage sheets in all shapes, sizes, and styles.
The House Across the Bay
(THATB) is an adorable little Etsy shop that is filled with lovely ephemera, vintage labels and images - even background papers, tags, and well....so much more!
AND...
starting in August,
The House Across the Bay
has decided to generously sponsor all the PSC challenges! Each week the winner will receive their choice of any collage sheet in THATB shop!
If you've been following the PCS blog, you may have noticed a lot of changes. One being that I've been promoted to a Senior Designer! Kind of a cool title, don't you think? That means I will be sticking around a bit longer with the PSC team. It would take a lot for me to leave this team. I truly enjoy working with the rest of my DT members -
Jan
,
Tracy
, and
Regan
. Behind the scenes, they make me laugh, are so encouraging, and have always been cheerleaders for our team.
But the really cool part is that beginning in September, I will be taking my part in creating/designing the sketches and color challenges that will be featured over at the Papercraft Star blog! I intend on creating sketches and colors that will provide variety and flexibility since everyone has a different style and comfort level when crafting - we want everyone to enjoy using the challenges at PSC. No matter what your style is!
Also, starting July 24th, Papercraft Star will be having a Design Team Call! Papercraft Star will be on the lookout to add a few more designers to the team. And this is one team you will love to work with! I just can't say that enough - it's true! I hope you all mark your calendars and apply to join the team.
If you have any questions about the team, please send me an email and I will be happy to answer your questions.
Phew....I told you this was a long post! Hee hee!
Now I hope you still have time after reading this long winded post to play along with the current challenge at Papercraft Star.
Here are the details....
Challenge 53: Liz Chidester Sketch
Create any project you wish using this sketch as your inspiration.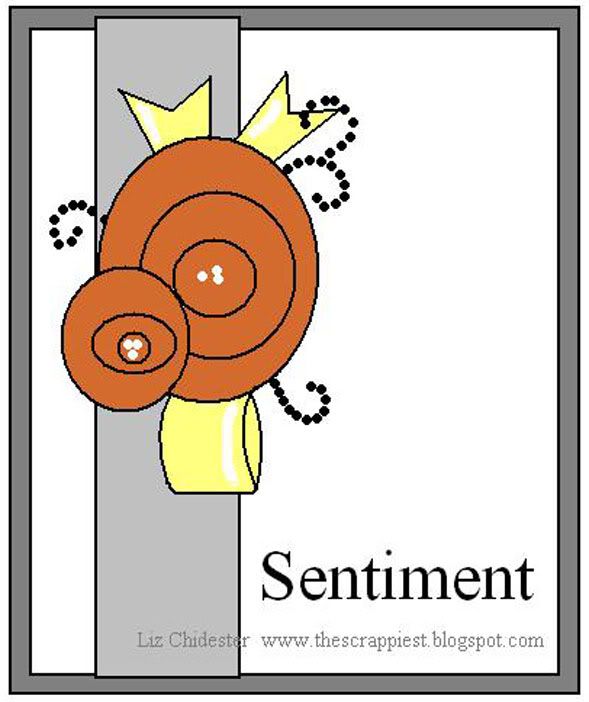 You have until Monday, June 18 at 6:00 a.m. to link up your creations and the Design Team will now vote on the winner! Good luck everyone!
Supplies Used for "Bloom" Card:
Patterned Paper: (
Mabel
) My Mind's Eye