Ok, I just love the newest challenge this week at
The Kraft Journal
! This week, the theme is "something grand" in honor of Grandparents Day.
What a great opportunity for me to create a little something for my own grandma. We live apart from each other, but that doesn't mean I don't take every chance I get to send her a little card. I love to remind her that I am always thinking about her. She is my biggest supporter and has been there for me through everything! And I mean, ever-y-thing!
I used
Brown Kraft
from
The Kraft Outlet
for my card base and layered on some patterned papers from Echo Park's For the Record collection. I love the green grid style papers! So pretty! I stamped postmarks along the top of my card from an amazing stamp set from TweetyJill,
Journey to France
.
The
old pharmacy label
is from Jenni Bowlin, with more lovely font! I guess I'm just a font kind of girl, there's something about old text styles that I am drawn to. Always have. Always will.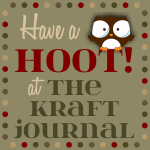 If you'd like to play along in the "Something Grand" (in honor of Grandparent's Day) theme this week at The Kraft Journal, you have until Sunday, September 11 at 6:00 p.m. (eastern) to link up your creations. You will have a chance to have your project highlighted in the "Feature Me Fridays" spotlight, along with a chance of winning a $15.00 gift voucher good towards anything in The Kraft Outlet store!
Have a great week everyone!